Olivia Foley '22
Olivia Foley is a Salve Regina class of 2022 student with a double major in elementary and special education, and a Service Advocate at the Newport County YMCA's Twice As Nice.  Foley is also a member of the Pell Honors Program, Kappa Delta Pi, the Student Education Association (SEA), and the SRYou Student Exposition Planning Committee.
So far, I have loved doing my community service hours at the YMCA preschool, Twice as Nice. Twice As Nice is a Newport County YMCA program dedicated to enriching the lives of students. The kids participate in activities including art, literature, music, science, and dramatic play. I help out teachers by covering their lunch breaks and watching the kids. For me, the most impactful part of this experience has been the relationships I've formed with all the kids. It always makes my day to hear them shout "Hi Miss Olivia!" when I walk into the school.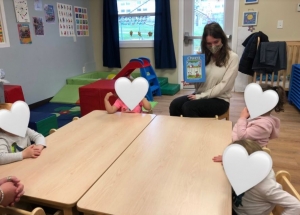 As an education major, having experiences like these remind me why all the hard work that I do for my classes is worth it. During the Fall semester, I worked with only one classroom, so I got to know those kids well. I would bring in read-aloud books for the kids, and I helped their teachers run the classroom. Before I left for Winter break, the teachers of that room had the kids make me cards wishing me luck on my finals. I was so touched by this gesture, and it reminded me how important service is because of the impact it has on the people who we help.
For the Spring semester, I have more responsibility at my site. I cover the lunch breaks for 3 different teachers, so I am alone with the kids. Due to covid, I have much less fieldwork for my double major in elementary and special education, so this experience is something I am so grateful for. I am learning so much about classroom management and relationship building with the kids. Every time I get a hug or a drawing from one of the kids, I am reminded of why I chose to work with kids as my career. This year, I have been even more grateful for the opportunities within the service advocate program that help me prepare for my major and my student teaching next year. Despite how hard covid has made so many things, this experience is always a highlight of my day, and I'm glad I can help serve my community and also learn so much about my career.