Student Education Association School Supply Drive
 The Center for Community Service and Engagement thanks Allison Driscoll for the following service project information and photos. Driscoll is a class of 2022 Salve Regina student with a double major in elementary and special education. Driscoll is the president of the Student Education Association, Recruitment Director on the SRYou Student Exposition planning committee, Pell Honors Program member, and is currently a work-study in the Center for Student Development.
At the end of February, the Student Education Association (SEA) completed a school supply donation drive to provide care packages to homeless students being accommodated by Housing Hotline.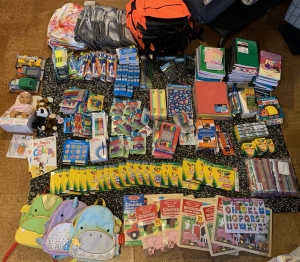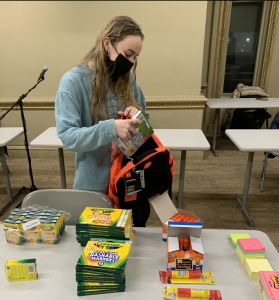 The Student Education Association raised over one thousand dollars in monetary donations and a large collection of school supplies. With the generous monetary donations, members of the club's executive board were able to shop for snacks and supplemental school supplies. All twenty-six students received a brand-new backpack, full of school supplies including markers, crayons, pens and pencils, notebooks, rulers, glue sticks, folders, a brand-new book, and much more! Each student also received healthy snacks such as Veggie Straws, Skinny Pop, Capri Suns, fruit snacks, applesauce, and apple chips.
The club is appreciative to everyone who donated or contributed their efforts to this cause and is grateful for the opportunity to give back to the Newport community.
Newport's Housing Hotline was established in 1979 "to aid Newport County's homeless population, provide assistance for all basic human needs and emergency support." For more information on Housing Hotline, visit their Facebook page.