Mercy Mondays: Caroline Parks '20 shares her service story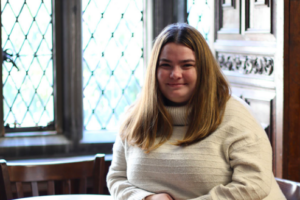 Salve Regina had been my dream school ever since I visited my cousin during her freshmen year at Salve Regina.
Prior to beginning my freshmen year, I signed up for the Service Plunge because I wanted to move in early — who wouldn't want to spend some extra time in Newport? — and I was hoping to make new friends.
Little did I know how much the Service Plunge was going to impact me. Participating in the plunge allowed me to learn about the Newport community while actively volunteering with several different community partners. Learning about the services provided to the community inspired me to become more involved with the Center for Community Engagement and Service.
I became a service advocate at Child and Family Services and a Service Plunge Facilitator to share my new passion for volunteering with other students. Additionally, upon realizing my passion and desire for helping others, I switched my major to social work.
Throughout my four years at Salve Regina, I remained involved with the Center for Community Engagement and Service through service advocates, facilitating Service Plunges, and attending/facilitating abroad service immersions — including the Florida Service Trip to Give Kids the World and the Sunshine Foundation and the Jamaica Trip to Mustard Seed Communities. I would describe my experiences at Give Kids the World Village, part of the service immersion from the Center for Community Engagement and Service, as  life-changing. Volunteering at Give Kids the World helped me find my passion for pediatric medical social work.
After graduating from Salve Regina, I received a master's degree in clinical social work from New York University, and I'm now a licensed social worker. I'm recently employed as a medical social worker in a neonatal and pediatric intensive care unit, and I'm eternally grateful to the Center for Community Engagement and Service for providing me with service experiences that helped me become the social worker I am today.
Thank you to Kelly Powers and Kathleen Rendos from the Center for Community Engagement and Service, who both continuously contributed to my growth as a student, volunteer and young adult. I would also like to thank all the staff members who accompanied us on service trips — including Michelle McCarthy, John and Kitty Rok, and Mary Montminy-Danna. Lastly, I couldn't have done any of this without my service friends: Alley, Calissa, Kali, and Olivia; thank you for serving along side me in Rhode Island, Florida and Jamaica — and for convincing me to take a leap of faith and switch my major.