MLK Day Training and Service
Since our first "MLK Day of Service" in 2017, service advocates have been participating in this day of service annually as part of their service advocate training. Service advocates gather together to participate in various service projects on this day,
Although the MLK Day of Service looked different this year because of COVID-19, the service advocates were still able to have a positive impact on the community through various service projects.
On January 18th, 2021, service advocates participated in four different community service projects to serve a variety of individuals in the community. Students split into groups to cook a meal for 60 homeless people, create snack bags for the homeless, make blankets for Housing Hotline, and make signs for the MLK Center's events that day.
The meal and snack bags were for 60 homeless individuals of all ages who are currently living at Motel 6 in Newport. These snack bags and meals were packaged individually in order to be COVID-friendly and distributed easily to residents. Each meal bag contained a serving of spaghetti and meatballs, chocolate chip cookies, carrots, and milk. Each snack bag contained, a piece of fresh fruit, can of soup, juice box, applesauce, fruit cup, a package of oatmeal, and many other snacks that are easy to make and eat when living in a motel.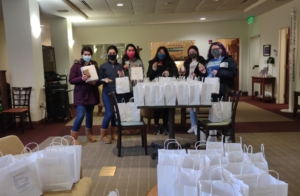 The staff of Motel 6, who are now simultaneously running a "homeless shelter" were so grateful for the food and kindness of the center's students. One of the homeless residents, a man named Matt, was generously willing to help carry the donations of food in before he even knew the food was for him. He repeatedly expressed gratitude for the meal and snacks, as it was not often people thought of helping "us who have nothing," as he shared.
Alongside the service projects, the center was able to support the Newport County Branch of the National Association for the Advancement of Colored People (NAACP) with their virtual event this year–our first big partnership with the NAACP!
Typically, the Newport NAACP celebrates MLK Day with a series of events beginning with an evening service at Temple Shalom in Middletown on the Friday before the holiday. A torch run ceremony starts their holiday celebration on Monday morning, followed by an annual birthday program, annual luncheon, afternoon program at the Dr. Martin Luther King Jr. Center, and an evening worship service. Various guest speakers attend these events and encourage hope and growth in the community. With COVID-19 limiting in-person celebrations this year, our center was able to step in and help host their virtual MLK Day on ZOOM. The majority of the NAACP group in Newport County is not technology friendly or familiar with the advances of the "virtual world," so we were excited to support them so they didn't have to skip a year of tradition.